The OVA is based on incidents in the novel Koshoku Ichidai Otoko (The Life of an Amorous Man) by Saikaku Ihara (1642-1693).
The libertine Yonosuke has spent his life in quest of sexual pleasure. Disowned by his father when he is 18, 16 years full of changes and errantry begin for him. At the age of 34 he inherits great wealth after his father dies and forgives his son.
When Yunosuke is 57, one of his tailors named Juzo comes to see him before setting out for Edo. Juzo has unwisely made a bet with a rich merchant that he will sleep with Komurasaki, the most renowned courtesan in Edo, at the first meeting. If he succeeds he will win a villa, but if he loses he will lose his manhood. Yunosuke is astounded as he knows how hard the high rank courtesans are to get. The best courtesans, tayu, as well as being beautiful, were highly cultured, being educated in poetry, calligraphy, painting, tea ceremony and other arts. They would sleep with a client only on the third night, the other two nights being taken up with greetings and other social niceties. Humble men, to whom they were 'untouchable' looked up to them with adoration and respect.
Indignant, Yunosuke takes Juzo to Edo and enables him to meet Komurasaki. Juzo is a laughing-stock at the tea-house because of his nervousness, and soon becomes drunk. He clumsily spills wine over the courtesan's kimono. Unperturbed, she goes out and returns wearing a fresh, identical garment.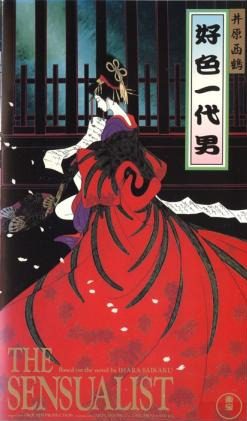 =======================================
Japanese : 井原西鶴 好色一代男
Aired : Jan 18, 1991
Studios : Unknown
Duration : 54 min.
Subs : English
=======================================